Building Valentine's Day buzz is all about knowing your audience and finding a strong way to elicit customer engagement with relatable content.
There are a variety of marketing strategies you can employ to surprise, delight, and drive sales during this Valentine's Day season, from social media promotions to SMS campaigns, and more.
Here are 10 of the best Valentine's Day marketing campaigns to help you share the love with your customers this February.
1) Create an interactive social media campaign.
Everyone likes a little gift for Valentine's Day, and Tiffany & Co. built that little present into their UGC marketing campaign, "The Tiffany Tattoo Shop."
Tiffany's created a mini-site that allowed consumers to select and customize a "tattoo" that can be used as a sticker on their Instagram posts. Each design was based on a classic tattoo style, and Tiffany's asked customers to create their own and share it with the "#BelieveInLove" hashtag.
Not only did Tiffany's get a ton of cute, stylized, and branded customer photos, but each customer and fan had an interactive experience with the brand and got to "take home" their own little creation.
2)  Use SMS to offer customers exclusive savings.
Show your existing customers some love by offering them a special discount offer on select Valentine's Day-themed products, specific product categories, or store-wide via conversational text messages.
While you can deliver this message in various ways, SMS marketing is increasingly the method of choice to activate customers with timely offers; in fact, the SMS open rate is a staggering 98%!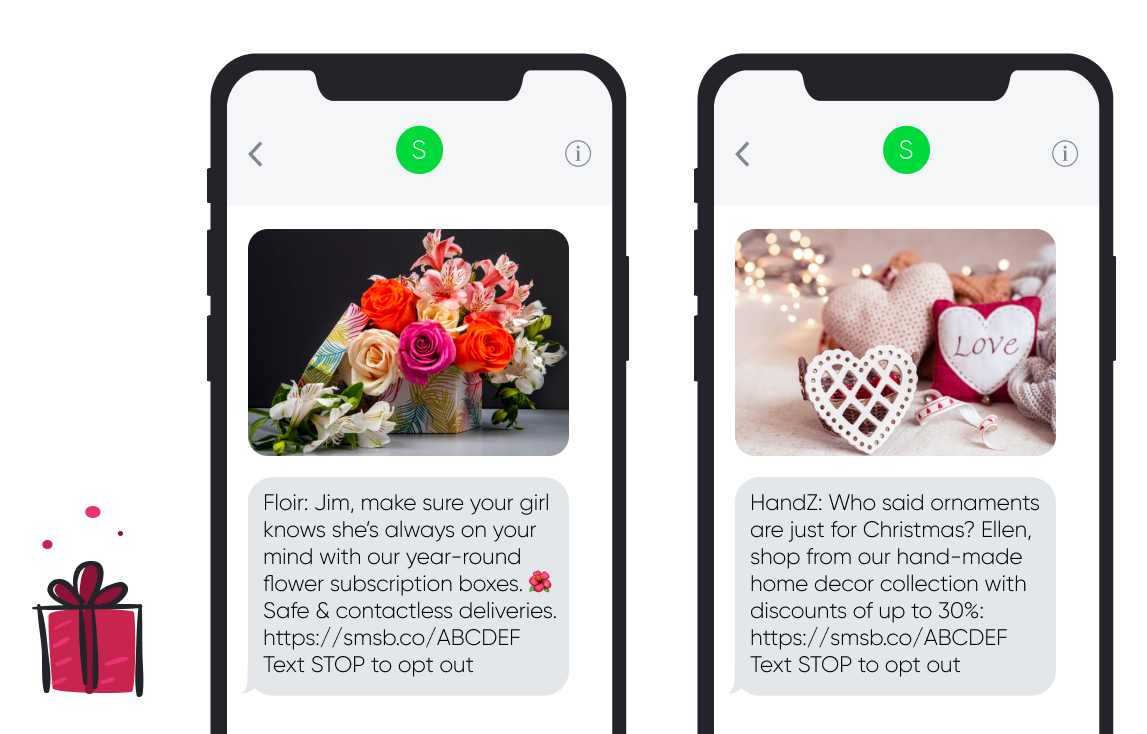 Not sure where to start? Yotpo SMS & Email offers several different templates to create Valentine's Day-themed SMS or MMS messages. And you don't have to focus solely on messaging for couples — there's even a template to persuade customers to show their pets some love.
Looking for more SMS marketing inspiration? Check out Yotpo's Valentine's Day SMS Marketing Playbook.
3) Create a social media contest to drive engagement.
The Body Shop's #SendingAKiss contest used Galentine's Day as a hook by asking their Instagram followers to send in photos of themselves blowing a kiss to a friend. The winner got a gift pack of newly released fruit-scented lip balms for them and their "Galentine's."
They also were clever in asking followers to "send" the kiss to friends, who are likely to be tagged in the posts. This move helped them reach new, relevant audiences without using up valuable resources.
4)  Use UGC for cross-channel marketing.
Dunkin' has built a reputation for consistently creating great UGC marketing campaigns. They understand how loyal and passionate their customer base is, and use that to their advantage time and time again.
For Valentine's Day, the brand utilized their social reach by getting customers to compete in a "Dunkin' Love" Instagram contest, streaming on Facebook Live, and having Snapchat Geofilters at certain Dunkin' locations.
This strategy allowed Dunkin' to leverage user-generated content on various channels on the big day.
5) Tap into consumer emotions with heartwarming video content.
For online dating platforms such as eHarmony, Valentine's season may be their biggest revenue generator. People across the world are looking for love, and dating sites have gone from taboo to the social norm of millennial dating.
eHarmony Australia went with an adorable take on their UGC Valentine's Day marketing strategy. Watch the video below and you'll quickly realize exactly what we are talking about.
As you can see, eHarmony asked kids what Valentine's day meant to them. They brilliantly got to the core of what it truly means, spending quality time with the people you care about most. They asked their 'little ambassadors' to create Valentine's Day cards, which the kids can then send to friends and loved ones online.
6) Celebrate different kinds of love on social media.
Realizing the power of women celebrating the day together instead of the usual pressure of finding a date, Nina Ricci created the #MyBestValentine campaign.
Nina Ricci is encouraging their customers to send in photos and videos of best friends and their perfume, and then featuring them across their social media platforms. Brands can create campaigns by collecting influential UGC around friendship, family, pets, or even celebrating self-love.
7) Boost authenticity by showcasing customer photos.
MeUndies launched an Instagram campaign asking couples to share photos of themselves wearing their matching underwear sets with the branded hashtag #MatchMeUndies. All the cute prints and the diverse, funny, and romantic shots made for an entertaining and sweet photo campaign.
In order to participate, couples needed to be wearing MeUndies sets — increasing demand for purchase and creating a series of aspirational and authentic customer photos.
You can then take these customer photos and turn them into a gallery on your site.
8) Show customers some extra love through your loyalty program.
Thank your loyal customers for the love they've shown you and return the favor with exclusive offers for loyalty program members. Here are some ideas:
Offer double points for purchases before Valentine's Day
Give a free Valentine's Day-themed gift with purchase
Waive shipping costs for a period of time before the holiday
By stressing urgency and exclusivity, your loyalty members will feel appreciated and valued, which is how most people want to feel on Valentine's Day.
9) Urge customers to spread the love with referrals.
Your loyal customers are your best marketing tool, so leverage that power for your Valentine's Day marketing. Give consumers the gift of extra referral points, products, bonuses, or discounts for sharing offers with friends and family.
The more channels you allow consumers to use to spread the love, the more new customers you'll reach. Yotpo Loyalty & Referrals offers customers the opportunity to share referrals across multiple platforms, like email, social media, and more.
10) Use visual marketing to tell a love story.
Google demonstrated the power of storytelling images, tracking a romantic story from start to finish with nothing more than a Google search bar and highly popular search terms from users. Valentine's Day campaigns that tell a story tend to do well because they elicit emotional responses from users.
11) Surprise and delight with a provocative campaign.
This Valentine's Day campaign from men's grooming brand Manscaped is sexy and fun, featuring large doses of humor, innuendo, and puns. From the hilarious names of the products in the Performance Package 4.0 to the cheeky message in the box, this campaign feels very on brand and appeals to Valentine's Day gift givers in a unique, effective way.
12) Think beyond Valentine's Day.
Valentine's Day is about couples and love, but Galentine's Day on February 13th  offers you another chance to connect with customers. Take this campaign from 1800Flowers.com, which showcases two women with a close, enduring friendship talking about how they met and how they support each other on the holiday and every other day. It tugs at the heartstrings, and gives brands a way to connect to shoppers who may not be in a relationship but still want to celebrate.
Conclusion
By utilizing strong visuals, rewards, and UGC across your marketing channels, you can give more love to your loyal customers around Valentine's Day, and tap into new consumer segments through referrals and social media buzz.
And remember: Valentine's Day is about love but it's not relegated to couples. Consumers love their friends, their children, their pets, and themselves, which gives brands ample opportunity to leverage the power of emotions to connect with customers, no matter what their relationship status is.
Want some more inspiration? Check out these creative holiday marketing campaigns for more ideas.